Dave Boulton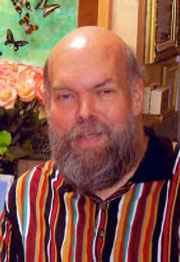 Dave Boulton died on Saturday, October 10, 2009.
"There will be a service for Dave at 1 pm on October 23rd. It will be held in the Pacific Chapel at Skylawn. I hope each of you can spread the word and bring as many of Dave's associates to the service – I would love to have a full house."
"Skylawn is located on Highway 92 at Skyline Blvd."
"We need to have photos to place into the guest book and put on display at the service. As Dave is being cremated the urn will be at the service. If I have not already told you, he donated his cornea so that two more people in the world will have sight."
Dave's cousin Bette
Memorial Invitation - 233 Kb pdf
---
The Forth Interest Group (FIG) was started by Bill Ragsdale, Kim Harris, John James, Dave Boulton, Dave Bengel, Tom Olsen, and Dave Wyland. They introduced the concept of a FIG Forth Model, a publicly available Forth system that could be implemented on popular computer architectures.
Dave and Sandy Bumgarner worked at Jef Raskin's Information Appliance where he programmed all of the many printer drivers for the Canon Cat.
Dave was credited with the phrase: Never trust a computer which you cannot lift.
Dave wrote a Life program for the Jupiter Ace.
---
Here is what Dave wrote about himself on December 9, 2007:
"I did a big push for cell phone browsers a few years back at Openwave Systems, then I took some time off. I'm now working up to a new generation of wireless internet stuff."